Christmas Spice
Christmas Spice
our 19th annual holiday exhibition
December 4 - December 19, 2015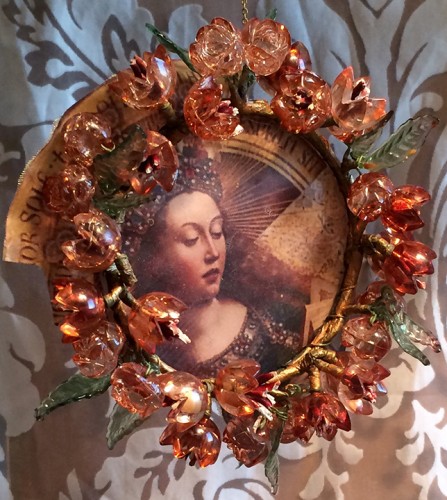 This year's tree by Jacqueline Treloar.


Stephen Andrews

Steven Beckly

Julie Beugin

Amy Bowles

Leigh Bridges

Churla Burla

Jane Buyers

Keith Cole

Dennis Day

Tom Dean

Maura Doyle

André Ethier

Gary Evans

FASTWURMS

Marie Finkelstein

Erella Ganon

Robert Flack

Sadko Hadzihasanovic

Anitra Hamilton

Andrew Harwood

Natalka Husar

Zachari Logan

Jiva MacKay

Olia Mishchenko

Janet Morton

Will Munro

Garry-Lewis James Osterberg

Shannon Partridge

Andrew James Paterson

Sandy Plotnikoff

Mélanie Rocan

Gretchen Sankey

Morley Shayuk

Cole Swanson

Ho Tam

Freddie Towe / FannaWanna

Carol Wainio


Each year we commission a different artist to "do" the tree and this year it is Jacqueline Treloar. Here is a text that she has provided to describe her approach to this year's tree:


The Primum Mobile of the Ninth Sphere of Heaven in Dante's Paradiso and the Abode of Angels

The 2015 Christmas Spice tree takes as its theme the Primum Mobile of the ninth heavenly sphere of Dante's Paradiso. This sphere is the abode of angels, and Jacqueline Treloar's elaborate tree ornaments evoke the theme with angelic painting references from different historical and artistic periods, incorporating sumptuous textiles, beading, metal findings, feathers and rich decorative elements.

In the ancient model of the universe, the seven known planets were carried around the earth on invisible orbs, while an eighth sphere contained the fixed stars. The whole system was set into motion by the outermost sphere, the Primum Mobile, or "first moved."

Dante made the Primum Mobile the ninth of the ten heavens of his Paradiso. As he journeys through Paradise, he sees nine fiery rings whirling about a central point of intense light, and Beatrice explains to him that these are the nine orders of angels, arranged in hierarchy by their proximity to God.

For Christmas Spice, this year the angels of the Primum Mobile come to earth in the form of elaborate and whimsical tree ornaments. The installation has three main elements:

A Gathering of Feathered Friends - The traditional star on the top of the tree is replaced with an elaborate silver hanging chandelier featuring porcelain winged figures; its five arms hold suspended circles bearing transluscent images of Bernini's angels encased in silver frameworks and disks.

Barbie Doll Angels Tea Party - The circular fabric skirt around the tree base is sumptuously patterned with metallic silver stencilling and rich embroidery work. Seated upon the tree skirt are five porcelain-white, winged Barbie dolls, mirroring the winged figures on the chandelier above, and clad in huge cut-out patterned skirts of gold and silver.

The Baroque Ball - Seventy fantastical pieces make up the tree ornament collection. The decorations take the forms of richly embellished spheres, angelic images on double sided circlets, sparkling mobiles and embroidered angelic seal bands.