The Yellow Pages
May 1 - May 30, 2020
The Yellow Pages (1993) was Ho Tam's first artist's book. It explored North American stereotypes and clichés of Chinese and Asian cultures. The work was also adapted into an eight-minute video piece that premiered at Union Station in Toronto in 1994-1995, as part of a Public Access programme.

In 1995, Ho Tam produced a series of The Yellow Pages as part of a colour Xerox artist programme at Visual Arts Ontario, which resulted in two sets of 26 colour copies in brown ink on a pale yellow parchment-like paper measuring 11 x 17 inches.

In 1998, Ottawa's Gallery 101 helped the artist to print the book's second run. Arranged in 26 segments from "A" to "Z", The Yellow Pages looks at the relationship between images and text within the Asian-American/-Canadian context and beyond.

The Yellow Pages was updated in 2016 as a self-published magazine, Hotam #12, to reflect the changing nature of our times, and was printed in black on a yellow ground and bound into the magazine. A subsequent suite of inkjet prints on Xuan paper, printed in 2020, once again paired text with seemingly random yet poignant pieces of footage, taken from various sources. In a playful and satirical manner, the work roams through the past and present, from the Vietnam War, to pop culture, to explorations of queer history and changing beauty standards. Both simple and complex in its presentation, The Yellow Pages seeks to interact with distinct viewers, never allowing a single perspective to dominate.

A Feature Exhibition in the Scotiabank CONTACT Photography Festival (2020)


Born in Hong Kong, Ho Tam is a media/visual artist who has worked in advertising and community psychiatry. He received a BA from McMaster University and an MFA from Bard College (NY). From 1996 to 1997, he was a participant at the Whitney Museum Independent Study Program. Tam has exhibited in public galleries and alternative spaces across Canada, including the Canadian Museum of Contemporary Photography (2001) and and two survey exhibitions, A Portrait of the Photographer, Paul Petro Contemporary Art (2015), and Cover To Cover at the Richmond Art Gallery, BC (2018). Over 15 of his experimental film/video works are in circulation including screenings at Centre Pompidou, Paris, Toronto International Film Festival, Yamagata International Documentary Film Festival and the travelling exhibition Magnetic North: Canadian Experimental Video organized by the Walker Art Center, Minnesota.

Tam is a recipient of various grants and awards, including the Grand Marnier Video Fellowship (2003) from the Film Society of Lincoln Center (New York) and the Best Documentary Feature at Tel Aviv GLBT Film Festival. From 2004 to 2011, Tam taught in the Department of Visual Arts at the University of Victoria. Ho Tam lives in Vancouver, BC. He recently edited and published Frontline: Interviews with International Photo-based Artists. He is also the publisher of 88Books, an independent press of artist books.





Ho Tam
The Yellow Pages
1994
video, 8 minutes
commissioned by PUBLIC ACCESS, Toronto, through an open call for an video installation at Union Station in Toronto, 1994 to 1995






The Yellow Pages, A (Asian Crimes) Godzilla in Toronto
 2020 inkjet printed on Xuan paper edition of two 11 ½ x 17 ½ inches (image size), 13 x 19 inches (sheet size)






The Yellow Pages, B (Beauty) Ads of whitening products in the Philippines, China and India 2020 inkjet printed on Xuan paper edition of two 11 ½ x 17 ½ inches (image size), 13 x 19 inches (sheet size)






The Yellow Pages, C (Choice)
 How to wear a hijab 2020 inkjet printed on Xuan paper edition of two 11 ½ x 17 ½ inches (image size), 13 x 19 inches (sheet size)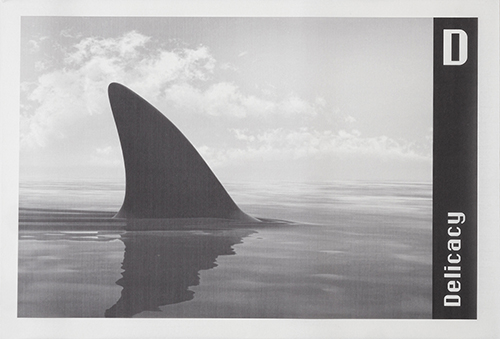 The Yellow Pages, D (Delicacy) Shark fin in the water 2020 inkjet printed on Xuan paper edition of two 11 ½ x 17 ½ inches (image size), 13 x 19 inches (sheet size)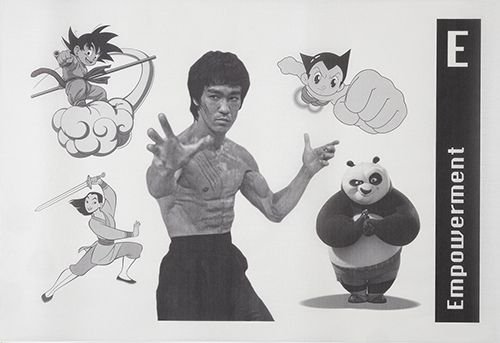 The Yellow Pages, E (Empowerment) Heroes and heroines: Son Goku of Dragon Ball, Mulan, Bruce Lee, Astro Boy and Po of Kung Fu Panda 2020 inkjet printed on Xuan paper edition of two 11 ½ x 17 ½ inches (image size), 13 x 19 inches (sheet size)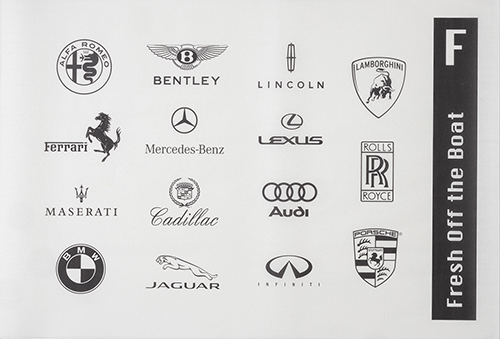 The Yellow Pages, F (Fresh Off the Boat) Luxury car brands 2020 inkjet printed on Xuan paper edition of two 11 ½ x 17 ½ inches (image size), 13 x 19 inches (sheet size)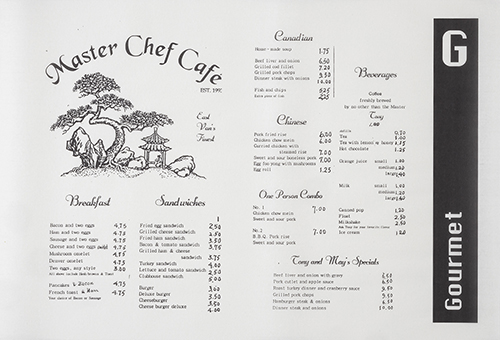 The Yellow Pages, G (Gourmet) Menu of the now closed Master Chef Cafe, Vancouver 2020 inkjet printed on Xuan paper edition of two 11 ½ x 17 ½ inches (image size), 13 x 19 inches (sheet size)






The Yellow Pages, H (Home) World map
 2020 inkjet printed on Xuan paper edition of two 11 ½ x 17 ½ inches (image size), 13 x 19 inches (sheet size)






The Yellow Pages, I (Invasions) Front page, the New York Times, February 25, 1945 2020 inkjet printed on Xuan paper edition of two 11 ½ x 17 ½ inches (image size), 13 x 19 inches (sheet size)






The Yellow Pages, J (Justice) Statue in memory of the Comfort Women during WWII, Seoul, South Korea 2020 inkjet printed on Xuan paper edition of two 11 ½ x 17 ½ inches (image size), 13 x 19 inches (sheet size)






The Yellow Pages, K (Kung Fu) Found drawings of squatting men 2020 inkjet printed on Xuan paper edition of two 11 ½ x 17 ½ inches (image size), 13 x 19 inches (sheet size)






The Yellow Pages, L (Liberation) Air strikes over Vietnam during the American War 2020 inkjet printed on Xuan paper edition of two 11 ½ x 17 ½ inches (image size), 13 x 19 inches (sheet size)






The Yellow Pages, M (M.S.G.
) Movie posters of gangster films from South Korea, Taiwan, Hong Kong and Malaysia 2020 inkjet printed on Xuan paper edition of two 11 ½ x 17 ½ inches (image size), 13 x 19 inches (sheet size)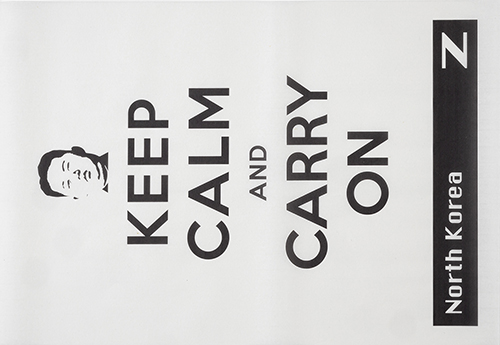 The Yellow Pages, N (North Korea) Peace poster for North Korea 2020 inkjet printed on Xuan paper edition of two 11 ½ x 17 ½ inches (image size), 13 x 19 inches (sheet size)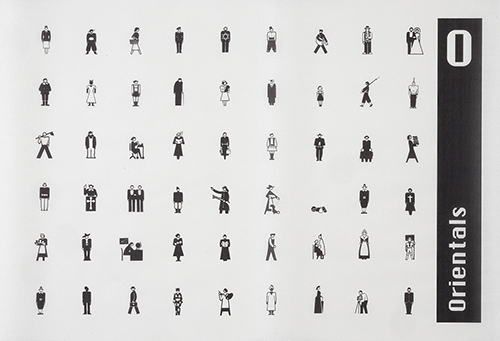 The Yellow Pages, O (Orientals) Pictorial symbols re-designed or appropriated from the handbook by Rudolf Modley 2020 inkjet printed on Xuan paper edition of two 11 ½ x 17 ½ inches (image size), 13 x 19 inches (sheet size)






The Yellow Pages, P (Patriarchy) Portraits on banknotes
 2020 inkjet printed on Xuan paper edition of two 11 ½ x 17 ½ inches (image size), 13 x 19 inches (sheet size)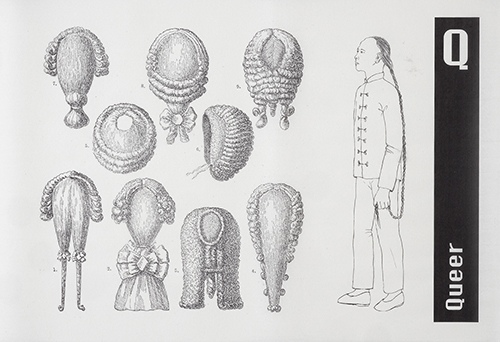 The Yellow Pages, Q (Queer) European wigs and Chinese hairstyle from past centuries 2020 inkjet printed on Xuan paper edition of two 11 ½ x 17 ½ inches (image size), 13 x 19 inches (sheet size)






The Yellow Pages, R (Rouge) Victims of Khmer Rouge, Cambodia 2020 inkjet printed on Xuan paper edition of two 11 ½ x 17 ½ inches (image size), 13 x 19 inches (sheet size)






The Yellow Pages, S (Solidarity) Poster for Black Lives Matter 2020 inkjet printed on Xuan paper edition of two 11 ½ x 17 ½ inches (image size), 13 x 19 inches (sheet size)






The Yellow Pages, T (Transformers) Magazines and memorabilia of Takarazuka Revue, a Japanese all-female musical theatre troupe 2020 inkjet printed on Xuan paper edition of two 11 ½ x 17 ½ inches (image size), 13 x 19 inches (sheet size)






The Yellow Pages, U (Uprising) The Umbrella Movement, Hong Kong (source: the Huffington Post) 2020 inkjet printed on Xuan paper edition of two 11 ½ x 17 ½ inches (image size), 13 x 19 inches (sheet size)






The Yellow Pages, V (Visibility) Actors appeared on American prime time television 2020 inkjet printed on Xuan paper edition of two 11 ½ x 17 ½ inches (image size), 13 x 19 inches (sheet size)






The Yellow Pages, W (Whiz Kids) Words cut out from ads in newspapers 2020 inkjet printed on Xuan paper edition of two 11 ½ x 17 ½ inches (image size), 13 x 19 inches (sheet size)






The Yellow Pages, X (Xenophobia) Internment and refugee camps 2020 inkjet printed on Xuan paper edition of two 11 ½ x 17 ½ inches (image size), 13 x 19 inches (sheet size)






The Yellow Pages, Y (Yellow Fever) 
Girls' Generations, a South Korean girl group 2020 inkjet printed on Xuan paper edition of two 11 ½ x 17 ½ inches (image size), 13 x 19 inches (sheet size)






The Yellow Pages, Z (Zen) A-bomb explosion 2020 inkjet printed on Xuan paper edition of two 11 ½ x 17 ½ inches (image size), 13 x 19 inches (sheet size)