Bill Jones
Suzy Lake As Patty Hearst
November 21 - December 20, 2008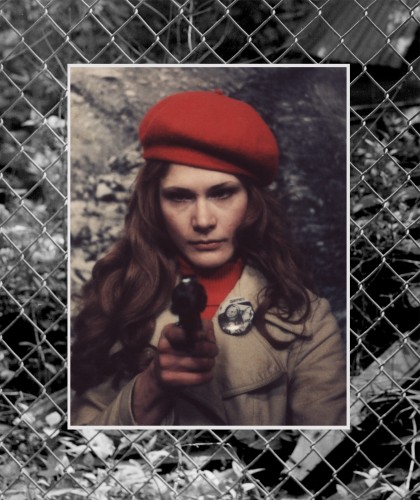 "In 1976 I was living in Vancouver and had seen an ad in File Magazine in which Suzy Lake is pictured standing against a massive column wearing a slinky floor-length dress (a version of the image in the current exhibition). The ad copy challenges New York artist, writer and entrepreneur Willoughby Sharp to a kind of 'art mogul' contest. Shortly thereafter, I received a studio visit from Bill Ewing, then the director of Galerie Optica in Montreal. He showed me examples of photo-conceptual work he was interested in and which defined his gallery's direction, including stills from Suzy's A Natural Way to Draw. Later that year, I went to Montreal for my solo show at Optica and met Suzy for the first time at my opening. Patty Hearst, the American Newspaper heiress, had been all over the news. The radical group, the Symbionese Liberation Army, had kidnapped her; Hearst had shown up in a bank security camera photo carrying a machine gun during a robbery. I asked Suzy on the spot if she would play Patty Hearst in a photo-piece I had in mind. Suzy showed up the next day wearing a red beret and raincoat and carrying a realistic-looking gun right out of the news photos.

The completed work was shown later that year (1976) at the Pender Street Gallery in Vancouver, a newly configured Parallel Gallery formed by Willard Holmes (former curator of the VAG) Ian Wallace, myself and a number of other artists. The exhibition, titled A Different Kind of Romance, included the work with Suzy, one featuring Tom Sherman (then on the board of the artist-run centre A Space in Toronto), and a number of collaborative works with the Vancouver-based media artist Ardele Lister.

Two years later, a second series of collaborative works with Ardele were shown at the Canadian Cultural Center in Paris. This marked the end of our photo-collaborative works. While in Paris for the show, I photographed a new solo work with a slightly more rarified visual narrative style titled Les Crimes des l'Amour, after a cheap copy of the De Sade novel found at a book stall. The complete eight-part work from which the triptych in the current exhibition is taken features Ardele as a 'passerby' looking into a knife store window and again at her own reflection in a Parisian jewelry shop. These images, shot with a hand held 4x5" Speed Graphic, were not only the first of a new form of poetic visual narrative, but began my use of a motif borrowed from Atget's Parisian shop window photographs at the turn of the century. The entire work (but for the triptych in the current exhibition) was subsequently purchased by the Art Bank and exhibited (the triptych featuring Ardele included) at PS1 in New York in the 1978 exhibition, The Altered Photograph. This is only the second time the 'missing triptych' has been shown.

The third work in the current exhibition Suzy Lake as Patty Hearst is a follow-up series of diptychs titled The Human Condition (1979). It extends the use of black and white and colour photography as meter in the visual poetic form, the panoramic window motif and the juxtaposition of opacity and transparency (screen grate and window) begun with If You Knew Suzy and continuing throughout my work of the 70s and 80s."
Bill Jones, 2008

Jones' work has been shown extensively in Canada, the United States and elsewhere, including a mid-career retrospective, Bill Jones: 10 Years of Multiple-Image Narratives, at the International Center of Photography; P.S.1 Contemporary Art Center; Brooklyn Museum; Jewish Museum; Rotunda Gallery; Sandra Gering Gallery; Lombard-Freid Fine Arts; Amy Lipton Gallery; White Columns (all in NY); San Francisco Museum of Modern Art; High Museum of Art, Atlanta; Milwaukee Art Museum; Museo National d'Art Moderne, Paris; Kettle's Yard, Cambridge, UK.