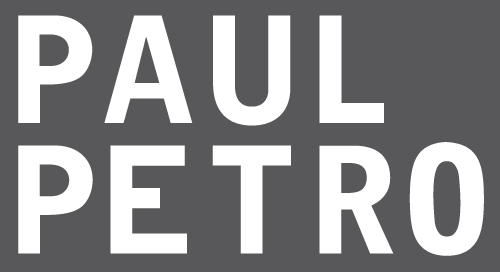 Lacuna (Alas Poor Yorick!)
paintings and photographs
February 22 - March 23, 2019
The exhibition Lacuna (Alas Poor Yorick!) brings together a series of works in diverse media inspired by the black page in Laurence Sterne's book The Life and Opinions of Tristram Shandy, Gentleman.

Tristram Shandy is a farcical autobiography published in nine volumes between 1759 and 1767. The novel is highly experimental, exploring the limits of typography and print design. For example, in Book 1, Chapter 12, a page printed entirely black appears at a point in the story when a character named Yorick dies. On one hand, the black page can be understood as an overflowing of ink and emotion representing inexpressible grief. On the other hand, it is like an image of an open grave: an opening, an absence, a void.

Using Sterne's black page as a starting point, Henricks developed two series of paintings, two series of photographs, and several mixed media works. On one level, the project is an exploration of the history of modern art. Sterne's black page both predates and anticipates 20th century monochrome, a history that traditionally begins with Malevich's paintings Black Square (1915) and White on White (1918). Henricks excavates a prehistory of monochrome, one that originates in farce, rather than in formal or spiritual concerns.

In architecture, a grid of sunken square boxes in a ceiling is called a lacunaria. A lacunar ceiling both lightens and strengthens the structures in which it is used. In literature, a lacuna is a missing portion of a book or manuscript. While working in the studio, Henricks began using a form of successive, diminishing rectangles that resembles a lacuna: the white edges of the page frame the black page that in turn frames a darker black rectangle. In this exhibition, Henricks uses the lacuna as a means to reflect on loss, mourning, and memory. In the process, he confronts the limits of what can be said or expressed through language, and the role that transformation plays in processes of renewal.

The artist wishes to thank the Concordia University Part-time Faculty Association for their support of this exhibition.



NELSON HENRICKS was born in Bow Island, Alberta and is a graduate of the Alberta College of Art (1986). He moved to Montréal in 1991, where he received a BFA from Concordia University (1994), and a PhD at Université du Québec à Montréal (2018).

Henricks lives and works in Montréal, where he has taught art history and video production at Concordia University, McGill University, UQAM and Université de Montréal. A musician, writer, curator and artist, Henricks is best known for his videotapes and video installations, which have been exhibited worldwide. A focus on his video work was presented at the Museum of Modern Art in New York, as part of the Video Viewpoints series in 2000. His writings have been published in exhibition catalogues, magazines, and in several anthologies. Henricks was the recipient of the Bell Canada Award in Video Art in 2002 and received the Board of Govenors' Alumni Award of Excellence from the Alberta College of Art and Design in 2005.

A mid-career retrospective of Henricks' work was presented at the Leonard and Bina Ellen Gallery in Montréal in 2010. Henricks' work is in the collections of the National Gallery of Canada, the Museum of Modern Art (New York), Musée d'art contemporain de Montréal, the Montréal Museum of Fine Arts, the Musée national des beaux-arts du Québec, the Leonard and Bina Ellen Gallery and Banque Nationale du Canada. He lives and works in Montréal.