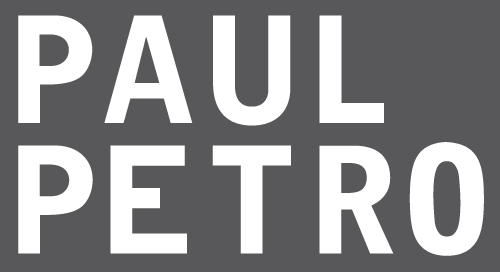 Pitch Assembling
new paintings
September 1 - September 30, 2023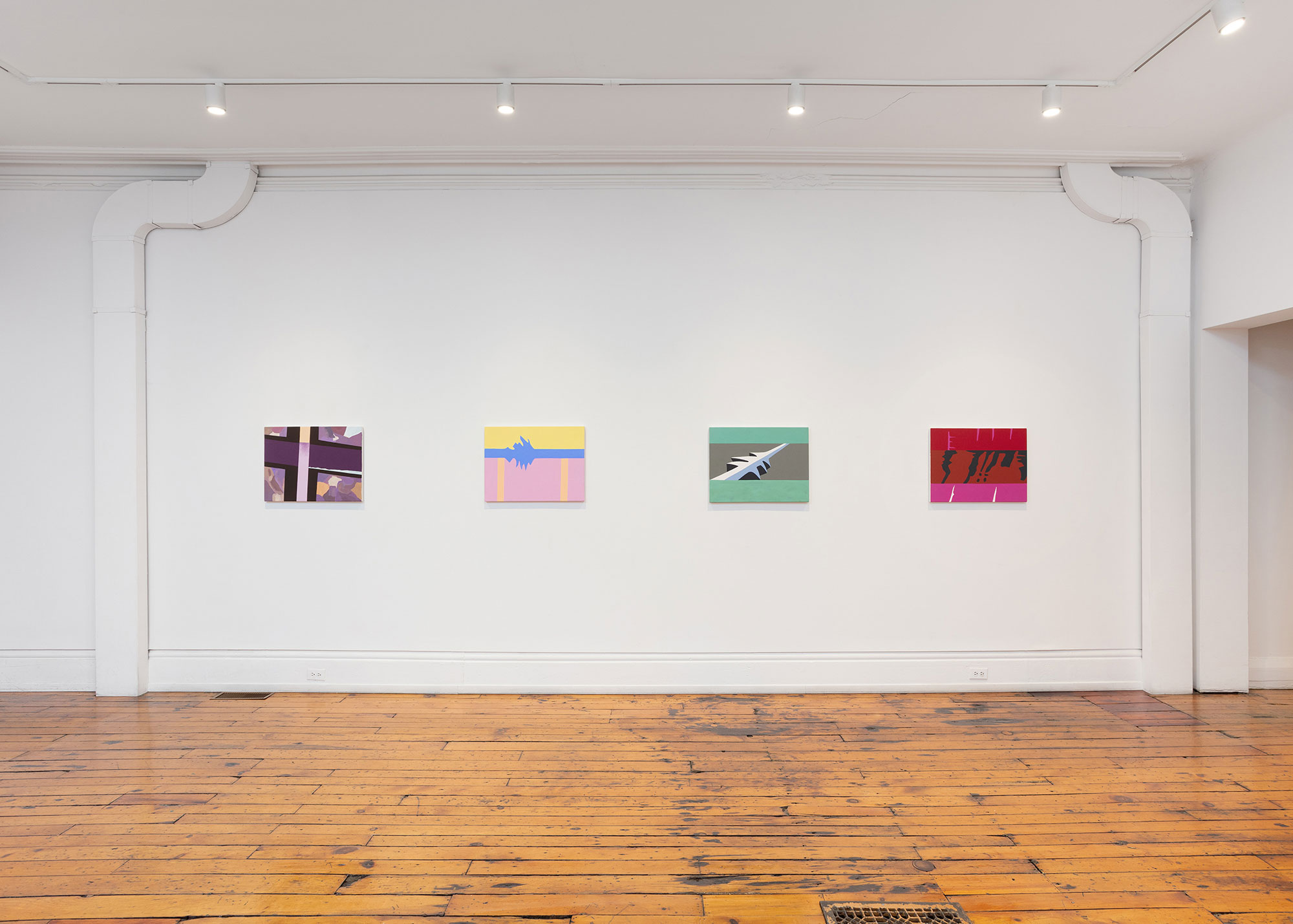 Paul Petro Contemporary Art is pleased to present Pitch Assembling, a new series of paintings by New Brunswick-based artist Jay Isaac with an exhibition text by Toronto writer and curator, Adam Lauder.


Jay Isaac: Pitch Assembling
by Adam Lauder


Multiple lines of artistic research converge in Pitch Assembling, a new series of paintings by New Brunswick-based Jay Isaac (b. 1975), an artist of mixed Canadian and Lebanese descent. Abstract representations of roadways and pathways testify to the artist's itinerant observation of his rural surroundings, but also betoken a multimodal journey of self-exploration.

The series grows out of research on the Lebanese diaspora in early twentieth-century New Brunswick, which brought to light previously unsuspected parallels between historical narratives of pack peddling—a common employment of early newcomers to the Maritimes—and the artist's own history of door-to-door sales. Operating at the margins of the formal market economy, itinerant vendors have connected rural consumers to goods and services on an informal basis since antiquity. This long history has been marked by demographic shifts mirroring geopolitical events and migration patterns. Isaac discovered that pack peddlers in early twentieth-century New Brunswick were disproportionately recent immigrants with roots in the Levant region of the Middle East. As Isaac's research brought him to the realization that he had literally been following in the footsteps of his ancestors, images of roads and paths became "fantasized visual accounts of a peddler's journey." The resulting entrepreneurial topographies effect a focused intervention in Canada's dominant landscape traditions. Neither images of "untouched" wilderness nor idealized depictions of urban space, Isaac shows us the more ambiguous terrain navigated by rural migrants and small-scale entrepreneurs.

Alluding to the door-to-door sales pitch "as a highly succinct form of communication," Isaac's landscapes simultaneously reference the modernist trope of auditory-visual correspondence. Eschewing the romanticism of František Kupka and other standard-bearers of synaesthetic modernism, Isaac looks instead to the heteroclite abstraction of the Canadian multidisciplinary artist and advertising executive Bertram Brooker (1888-1955). Brooker's masterwork, Sounds Assembling (1928), orchestrates an intricate polyphony of visible colour and implied sound. Isaac exposes the commercial discontents of the artist-advertiser's synaesthetic canvas, suggesting links between the Canadian modernist's sonic explorations and the sales pitch as an auditory event. But where the musical titles of Brooker's abstractions reference the ideals of classical poise embodied by composers such as Bach, Isaac substitutes the "noise" endemic to the improvised interactions of travelling salespeople. Pitch Assembling visualizes these pitches-in-formation, thereby transforming the terrestrial landscapes traversed by Isaac's pack peddlers into intervals in a noisy vernacular soundscape.

Emblems of passage and flux, Isaac's evocations of noise also reference the ambiguities and in-betweenness of identity—in particular, the fluidity of mixed ancestry. The anthropomorphic nature visualized by Brooker's late canvas Umbrella Tree (1950) is another reference point for these sophisticated meditations on alterity and embodied multiplicity. In their dual suggestion of the human figure as well as the cedar tree that is the national symbol of Lebanon, Isaac's wave-like representations of the door-to-door salesperson's "noisy" speech recall the uncanny face emerging from the foliage of Brooker's titular tree. This deconstruction of the outward signs of national belonging carries forward some of the tactics and concerns of Isaac's previous series, Log Pile Variations (2022), which took the cedar as a starting point for reimagining the ubiquitous log piles of rural New Brunswick as readymade emblems of diaspora. The artist has likened this way of working with claimed materials to therapeutic methodologies that excavate and expose hidden but established conceptual and behavioural patterns.

Isaac's use of therapeutic frameworks is linked to his ongoing personal archaeology of aesthetic sources. Like the earlier Log Pile Variations, Pitch Assembling draws formal parallels with the work of Lebanese artists including Etel Adnan, Huguette Caland, Saloua Raouda Choucair, and Saliba Douaihy. The vibrant palette and flat paint application of Isaac's recent canvases nod toward the oblique landscape referent in Lebanese abstraction.

At the same time, Pitch Assembling exhibits a self-consciousness about its status as a discrete series that functions as a commercial proposition in a market context. In other words, the series knowingly "pitches" itself to viewers. As such, it extends Isaac's long-time experimentation with both distinct bodies of work and projects that operate as art-and-business amalgams. Neither overtly commercial nor subversive in intent, Isaac's interface with the economics of art is, rather, part and parcel of a more expansive exploration of how art functions in real-world domains. Eschewing formalist criteria of "quality," Isaac has stated that he is "not interested in good or bad painting, but rather in how painting operates in context."


This exhibition has been generously supported by the Canada Council for the Arts and the New Brunswick Arts Board.


Jay Isaac (b. 1975, Saint John, NB) is a Canadian artist of Lebanese descent. He studied at the Emily Carr Institute of Art and Design, Vancouver, Canada (1993-1997) and the Cardiff Institute of Art, Cardiff, Wales (1996). His work has been widely exhibited, with notable exhibitions at Galleria d'art moderna di Bologna, Bologna; MOCA Toronto; James Fuentes LLC, NYC; Mercer Union, Toronto; Galerie Kunstbuero, Vienna; The Power Plant, Toronto; Beaverbrook Art Gallery, Fredericton, NB; White Columns, NYC; Cue Art Foundation, NYC; Agnes Etherington Art Center, Kingston, ON; Weatherspoon Art Museum, Greensboro, NC; The AGO, Toronto; CAG, Vancouver; Night Gallery, LA; Monte Clark Gallery, Toronto/Vancouver; Galleri Benoni, Copenhagen; McIntosh Gallery, London, ON; Paul Petro Contemporary Art, Toronto.

Isaac was co-founder and publisher of Hunter and Cook Magazine (2009-2011), found and ran the @nationalgalleryofcanada Instagram account (2015-2016) and the current Instagram account @newbrunswickartistarchive. He is the founder and co-director of Peter Estey Fine Art (2018-present), an artist-run dealership focusing on secondary market folk, outsider, Inuit and Canadian art. He has been the recipient of numerous awards including, most recently, a New Brunswick Arts Board Creation Grant (2023), Canada Council Concept to Realization Grant (2022), Pollock-Krasner Foundation Grant (2021), Canada Council Research and Creation Grants (2022, 2021, 2018, 2017), and the Chalmers Art Fellowship (2019). Isaac's work can be found in numerous public and corporate collections in Canada including the Beaverbrook Art Gallery, Fredericton, NB, the Winnipeg Art Gallery, the Agnes Etherington Art Centre, Kingston, ON, the Royal Bank of Canada, Toronto, and the Ivey School of Business Collection at Western University, London, ON. Isaac is represented by Paul Petro Contemporary Art, Toronto. He lives and works in Rowley, New Brunswick.
.