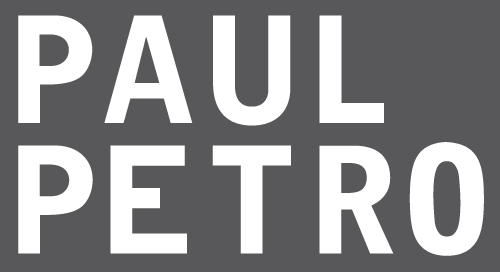 Blaue Stunde
Julie Beugin
November 18 - December 24, 2011
"Blaue Stunde, or 'Blue Hour,' is a German phrase describing the time between night and day, the period of transition where the sky is a bright blue before the darkness of night. In the city it is the time when interior lights are turned on but before curtains are drawn. Artificial lights mingle with the glow of the sky and inside and outside appear equally lit. The city feels permeable, the everyday strange. This in between light forms the leitmotif for the exhibition.

"Through my collage based paintings, I seek a layered emotional response to the trajectory of human progress. With a cinematic emphasis on mood and atmosphere, I study the aesthetics of the built world with an awareness that the consequences of unrestrained progress and continued development are increasingly fraught. Using found images from the recent past, published from the post war period until approximately 1980, I realign the photographic conventions of architecture, travel and interior decor.

"In my paintings, perfectly angled tables and shelving units meet city streets and institutional architecture. The carefully domesticated vegetation of gardens and potted plants are lit with electric lights, the natural indivisible from the manufactured. Transparently painted and holding inside and outside simultaneously, these composite spaces suggest mental images; desires of the recent past rendered unstable in the face of contemporary anxieties. Emerging within and around the photographic references are forms that dissolve into pools and puddles and are more paint than image: the edges of memory, a word on the tip of the tongue. The strangeness of the built world, lightly held together."

Julie Beugin
July 2011


Originally from Calgary, Alberta, Julie Beugin received her BFA from the Emily Carr Institute (2004) and her MFA from Concordia University (2008). Her work has been shown across Canada, including solo exhibitions at Optica, Montréal, and Paul Petro Contemporary Art, Toronto, as well as group exhibitions in Vancouver, Calgary, and Ottawa. As a finalist in the RBC painting competition in 2009, she participated in a group exhibition at the Musée d'art contemporain, Montréal and the Power Plant, Toronto. In 2010 the Musée national des beaux-arts du Québec purchased two major paintings, becoming the first public collection to acquire Beugin's work.

Julie Beugin would like to thank the Canada Council for the Arts.