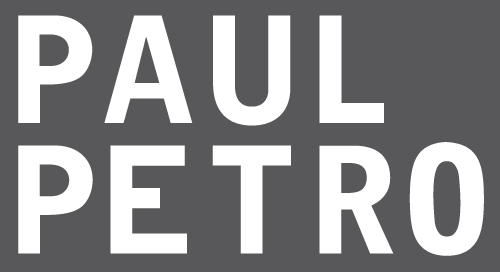 Canaries In A Coal Mine
January 10 - February 15, 2020
Paul Petro Contemporary Art presents Canaries in a Coal Mine, a group exhibition that looks at the troubling welfares of our times.


Stephen Andrews

Carole Condé and Karl Beveridge

Ross Bleckner

Wendy Coburn

Marlene Creates

Georganne Deen

Gary Evans

FASTWÜRMS

Ron Giii

Sadko Hadzihasanovic

Zachari Logan

Janet Morton

Mélanie Rocan

Su Rynard

Adrian Stimson

Ho Tam

Flavio Trevisan

Carol Wainio

Robert Wiens


These days the consequences of climate change are a constant presence in all media, social and otherwise. Our expanding digital footprints are one thing. Our expanding carbon footprints are another. While we digitally track information we are also being tracked, with all this movement translating into quantifiable and saleable data directed towards economic and, as we now know, political gain. Summoning and maintaining the fortitude to mindfully and conscientiously position ourselves, both personally and in public, in relation to these networks of losses and gains, is no easy task. And with so many hot spots happening globally do we even, as humans, have enough bandwidth to cope?

Bringing many of these issues down to a ground level for our deliberation is part of the modus operandi of Canaries in a Coal Mine. So many canaries, so little time. And with this exhibition, so many opportunities to look deeply into matters at hand and consider the consequences of, for instance, rising water levels and drowning trees on the Toronto islands, recent forest fires in Alberta and now Australia, melting polar icecaps, ecological imbalances and extinctions, the effects of fossil fuels on both the environment and global economies, and most harrowingly, these effects on the welfares of children and of democracy itself. So many tips of so many icebergs. And so many artists crafting works that address, explore, examine and respond. So many calls to action.


Artist Statements & Biographies


STEPHEN ANDREWS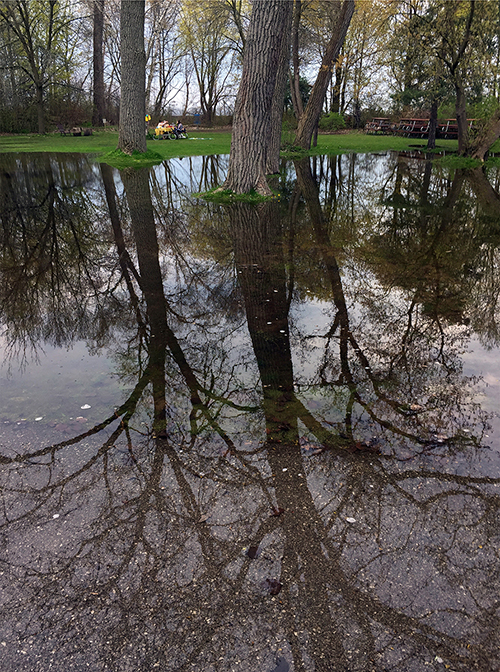 Picnic
2019
chromogenic print
12 x 9 inches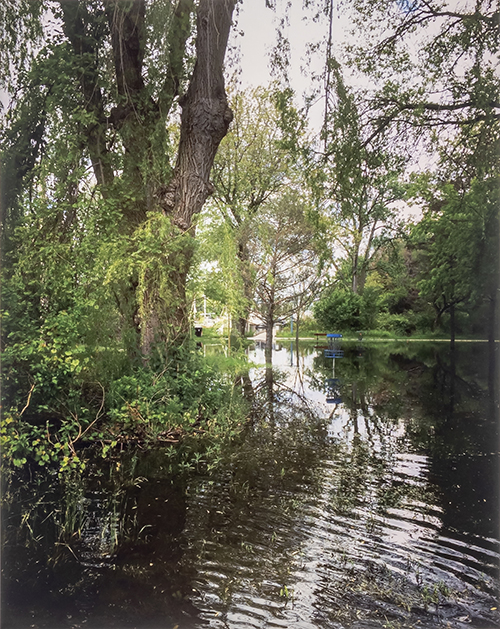 Untitled
2019
chromogenic print
10 x 8 inches

Continuing the themes explored in his 2019 exhibition Take Hold, which culminated with photographs and paintings bearing a new subject found in the flood plains of the Toronto Islands and the painting Father and son, toy boat and dandelion, these works portray the beauty and the incipient tragedy of flooding and the island tree population.

STEPHEN ANDREWS was born in 1956 in Sarnia, Ontario, Canada. His work deals with memory, identity, technology and their representations in various media including photography, drawing, animation, painting and ceramics. Over the last twenty five years he has exhibited his work across Canada, the U.S., Brazil, Scotland, France, Italy and Japan, including POV, a fifteen-year survey at the Art Gallery of Ontario (2015). He is represented in collections including the National Gallery of Canada, the Art Gallery of Ontario, the Montreal Museum of Fine Arts, the Belkin Art Gallery, the Agnes Etherington Art Centre, the Art Gallery of Hamilton, the Tom Thomson Art Gallery, the Schwartz Collection, Harvard amongst many others, and corporate art collections including Torys (Toronto), Osler, Hoskin and Harcourt (Toronto), the Royal Bank of Canada, National Bank of Canada, TD Canada Trust and the Bank of Montreal. Andrews is a recipient of the Governor General's Award in Visual and Media Arts (2019).


ROSS BLECKNER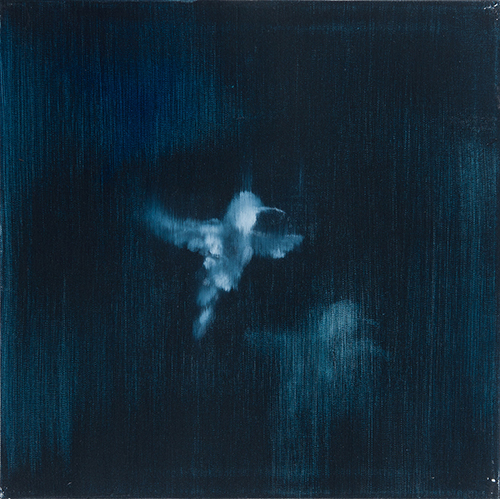 Untitled
2017
oil on canvas
18 x 18 inches

"Bleckner's paintings often begin with images of something tangible or representational, like a flower. Then in a process of destruction, abrasion, building then forgetting, Bleckner scrapes parts of the image away, layers more paint over it, adds symbols, geometric elements, color fields and more layers of paint. The process of adding, deleting, obscuring and revealing results in something akin to an apparition. What begins as an exploration of something real melts away into something symbolic and dreamlike. Bleckner's finished works are manifestation of the process that creates them. They're images of creation and decay, action and memory, partnership and dissolution, loss and gain. As viewers the blurred, sometimes confusing space they leave us in feels uncanny. We dimly recognize a Bleckner painting as something we know, and yet we're unsure how to grasp it, or what it means.

Beginning in the 1980s, Bleckner became deeply affected by the idea of the fleeting nature of life. Some of that feeling was due to the AIDS epidemic, which was taking many of his friends and contemporaries. He expressed the sense of fear and loss he and so many others were feeling through his painting. By adding a visual language to his work that included such things as urns, vases and chandeliers, and symbolic images like birds and rays of light he expanded his oeuvre into a deeply personal realm" (Phillip Barcio, 2016).

ROSS BLECKNER was born in New York City and raised in Hewlett, NY. He received a Bachelor of Arts from New York University in 1971, and a Master of Fine Arts from Cal Arts in 1973. He has taught at many American universities.

The Solomon R. Guggenheim Museum of Art held a major retrospective of Bleckner's work in 1995, summarizing two decades of solo exhibitions at museums including the San Francisco Museum of Modern Art (1988), the Contemporary Arts Museum (Houston, 1989), the Carnegie Museum of Art (Pittsburg, 1989), the Art Gallery of Ontario (1990), the Moderna Museet (Stockholm, 1991), and the Kolnischer Kunstervein (Cologne, 1991).

Works are held in public collections including the Museum of Modern Art (New York), the Whitney Museum of American Art (New York), the Pulitzer Museum (St Louis), the Museum of Contemporary Art (Los Angeles), the Astrup Fearnley Museet for Moderne Kunst (Oslo) and the Museo National Centro de Arte Reina Sofia (Madrid).

Bleckner's philanthropic efforts include serving as president of the AIDS Community Research Initiative of America (ACRIA), a non-profit community-based AIDS research and treatment education center. More recently, he has been working with the United Nations Office on Drugs and Crime in Northern Uganda to help rehabilitate and raise money for ex-child soldiers. In May 2009 Bleckner was awarded the title of Goodwill Ambassador by the United Nations.

Recent exhibitions include Architecture of the Sky at the Bohme Chapel, Cologne (2016), which included a selection of Dome and Architecture of the Sky paintings from 1992 – 2013, Ross Bleckner: Find a Peaceful Place Where You Can Make Plans for the Future, a survey exhibition of recent work at the Dallas Contemporary, Dallas, TX (2017), the group exhibition Blue Black, curated by Glenn Ligon at the Pulitzer Museum, St. Louis (2017), Time of Disquiet, Maruani Mercier Gallery, Brussels (2018), and Ross Bleckner, Palais Schonborn-Batthany, Vienna (2018). Upcoming exhibitions include Ross Bleckner: Bilder 1985-2018 Paintings at the Neues Museum, Nuremberg.

Ross Bleckner lives in New York City.


CAROLE CONDÉ AND KARL BEVERIDGE





Overtime
2016
archival pigment print
16 ½ x 44 ½ inches

"Overtime is a climate change allegory that looks at the effects of global warming on the culture of hockey: notably the loss of natural ice on which many children learn to play. It focuses on a crime scene where a drowned hockey player, in a melting ice pond, is surrounded by various on-lookers: reporters; gawkers; shoppers; suspects; protesters; oil tycoons; hockey moms; and brawling kids. Marked off by yellow police tape, the disappearing rink is nestled in the buffer zone between a suburban housing tract, and an oil refinery. A reference to J.M.W.Turner's Death on a Pale Horse, of 1825-30, rides the coming storm" (Carole Condé and Karl Beveridge, 2016).

Canadian artists CAROLE CONDÉ and KARL BEVERIDGE moved to New York City in 1969, and soon were at the centre of the burgeoning conceptual art movement. In 1975, they joined the Art & Language journal The Fox (with Joseph Kosuth and Ian Burn) and picketed the Museum of Modern Art to protest its lack of inclusion of women artists, while critiquing the apolitical minimalism of Donald Judd. This ferment culminated in a major museum show, It's Still Privileged Art, at the Art Gallery of Ontario in 1976, just prior to the artists' return to Toronto in1977.

By the late 1970s, Condé and Beveridge drew a focus on various issues that were urgent within the trade union movement. Their method of working dialogically with their subjects was invented for the landmark 1981 project Standing Up, and has been refined in numerous subsequent collaborations. In the past three decades, over fifty solo exhibitions of Condé and Beveridge's work have been presented at major museums and art spaces on four continents, including: the Institute of Contemporary Art (London, UK); Museum Folkswang (Germany); George Meany Centre (Washington); Dazibao Gallery (Montreal); Centro Cultural Recoleta (Buenos Aires); Art Gallery of Edmonton; and the Australian Centre for Photography (Sydney).

Equally, and congruent with the artists' commitment to accessibility, their work has been displayed in a host of non-art and public settings, such as union halls, billboards, bus shelters and bookworks. The artists continue to work and live in Toronto.



WENDY COBURN




Silent Spring
2008
bronze
18 x 6 ½ x 5 inches

"Silent Spring (2008), a cast bronze DDT sprayer inscribed with human names that substitute for the types of creatures killed by this human-made poison […] reinforce[s] our underlying fear of losing control of the natural world. This apprehension dictates our reliance on familiar, seemingly safe binary constructions. To take control of nature, humans continually attempt mastery.

The titles of the sculptures originate from Rachel Carson's exposé Silent Spring (1962), a book that inspired an ongoing environmental movement that recognizes the devastation people have wreaked on nature. Coburn reverses the position of insect and individual, memorializing in bronze once again the losses suffered as "the living fall into stillness and silence" (Coburn).

The sculptures highlight how the mistreatment of something as small as insects, often considered insignificant pests, has lasting and devastating effects on the larger ecosystem, humans included. By reinforcing the interconnection of our world through an everyday, valueless object like the DDT sprayer, Coburn implores acknowledgement from viewers of their own complicity in the damage inflicted worldwide on various living species" (Katherine Dennis, Land Marks, 2013).

"Coburn's Silent Spring, 2008 is a bronze replica of a pesticide sprayer that she found in her neighbourhood, upon which the artist has etched the names of loved ones – a found object recast as a weapon, monument, and talisman.

The sculpture takes its name from Rachel Carson's 1962 book, which warned of the dangers of synthetic pesticides. (In the exhibition Lively Objects, Museum of Vancouver, 2015…) It was placed with its handle nearly touching the handle of a vintage pushmower in a display of original 1920s garden tools. To think in terms of affordances, handles like this invite grasping, and in doing so imply human presence. These tools look "graspable", and invite the viewer to identify with the person whose hands have held and used this tool. These technological objects are extensions, and participants in the human desire to care for our own loved ones – a desire possibly accompanied by dire consequences for the wider ecosystem" (Caroline Seck Langill and Lizzie Muller, "Curating Lively Objects: Post-disciplinary Affordances for Media Art Exhibition," Curating the Digital, 2016).

WENDY COBURN (1963-2015, AOCA, 1986) was a Toronto-based artist whose studio practice included photography, sculpture, installation and video. Coburn's work engaged a range of concerns such as popular culture, mental health, gender, whiteness, nationhood and the role of images in mediating cultural difference.

An associate professor at OCAD University, Wendy Coburn served for several years as an Associate and Assistant Dean in the Faculty of Art and most recently led curriculum development for a new Art & Social Change program. Coburn taught in the Sculpture/Installation program and also taught a cross-disciplinary course fostering research and peer support for studio production in the areas of sexuality, gender and LGBTQ issues.

Coburn's work has been exhibited and screened in exhibitions and festivals including MIX, New York Gay & Lesbian Experimental Film/Video Festival (2002), the Living Effect, Ottawa Art Gallery (2010), Landmarks, Thames Art Gallery, Chatham (2013), Art Gallery of Windsor (2014), Art Gallery of Peterborough (2015), Photophobia, Art Gallery of Hamilton, Transmediale International Media Art Festival (Berlin, Germany), Kassel Documentary Film & Video Festival, and the Dublin Lesbian & Gay Film and Video Festival. Solo exhibitions include Acting Out, University of Lethbridge Art Gallery (2013) and Anatomy of a Protest, Art Museum, University of Toronto (2014).


MARLENE CREATES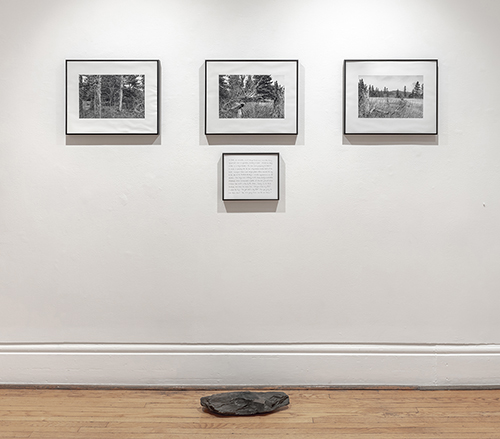 Blank Sign, 1994
from the series Language and Land Use, Newfoundland 1994
unique assemblage of 3 black & white photographs, selenium-toned fibre-based silver prints, 16 x 20 inches each, hand-written panel, pencil on matboard, 10 x 12 inches, burnt stone from the site 70 x 76 x 14 inches (overall)

"The geography around each of the public signs in this series — the territory that is under the influence of the printed public message — is a place circumscribed by human activity. In each assemblage, under the central photograph in the three-part panorama, in juxtaposition to the print and language of the public sign, I have placed a small, hand written panel describing my personal observations and experiences in each place; and below these, a tangible object I collected there.

However, Blank sign is a deliberate exception in the series: there are no words left on the old weathered sign attached to the fallen tree. This was once the site of Beothuk dwellings. When I came across the place in 1994, work was being done by heavy equipment to build a road and a parking lot for an interpretation centre about this extinct race of Indigenous people. The blank sign became deeply significant to me" (Marlene Creates, 2020).

MARLENE CREATES is an environmental artist whose retrospective exhibition, Marlene Creates: Places, Paths, and Pauses, is currently touring Canada. She has presented her work across Canada and abroad in over 350 exhibitions and screenings, and delivered more than 200 guest lectures. She has held over 40 site-specific multidisciplinary events in The Boreal Poetry Garden. Her work is in many public collections, including the National Gallery of Canada.

She has been the curator of several exhibitions, worked in artist-run centres, and taught visual arts at various colleges and universities. Marlene has received many awards for her work, including the CARFAC National Visual Arts Advocate Award and the Grand Jury Award at the Yosemite International Film Festival. She was elected to the Royal Canadian Academy of Arts in 2001. Marlene lives and works on a six-acre patch of Newfoundland boreal forest, which has been the focus of her work since 2002. Marlene received a Governor General's Award in Visual and Media Arts for "Lifetime Artistic Achievement" in 2019.


GEORGANNE DEEN




CEO of Goldman Sachs on trial at the Hague in Balmain
2016
gouache on paper
11 ¾ x 7 ½ inches





For their 25th anniversary, he made her the principle shareholder of a white collar prison outside of Houston
2016
gouache on paper
11 ½ x 6 ¾ inches

"Psychic Violence in America began as an effort to capture the barefaced depravity of those in positions to enrich themselves at the expense of others. I started the series in 2016 when each day broke with another expose of flagrant bamboozling but surprisingly, no one was bothering to veil their truant humanity, or even putting on a show of remorse when caught breaking the law. Knowing their chances of serving jail time were next to nil, they shrugged it off and went right back to it. To anyone who hadn't gotten the word that we were no longer pretending to care about the rest of the world, this signaled a cold blooded violation on a psychic level where no laws protected us. It's the stuff that myths are made of.

The influx of women engaged in these scams (heads of institutions cheating their faculty, bank administrators illegally opening and draining accounts for their customers (and being rewarded for it), ruthless wives of powerful CEOs given positions to which they have no understanding) awakened an untapped desire in me to create the kind of illustrations I'd admired as a child in high end fashion magazines.

Senators vying for the evangelical vote by promising absurd laws of control over female anatomy, slum lords serving as our cultural benefactors, toxic stock traders, arms dealers and health insurance CEOs celebrating a victory over the people with strippers: the series became a clearing house for my anger. Driven by the sheer volume of blabber that had smoked out all reasonable attempts to locate the truth in this shifting soap opera, I adopted the role of a court painter and PR agent for the age of fatuity, and proceeded to advance the notoriety of the sordid character types in formal (psychic) portraiture" (Georganne Deen, 2019).

GEORGANNE DEEN is an artist, poet and musician whom the LA Times described as charming, fierce and inspiring.

Born in Fort Worth Texas, she wrote poetry and prose from an early age with a Goya-esque eye for subjects deemed inviolable in polite society. At East Texas State University she studied with printmaker Lee Baxter Davis who fostered a small group of artists devoted to the experimental narrative, which included underground comics and their incendiary, highly nuanced documentation of human nature. In 1980 Deen moved to Los Angeles to attend the California Institute of the Arts.

The rich trappings of the California lifestyle: new age and glamour marketing, pulp illustrations and commercial graphics of all epochs coalesce with her own distinctive visual sensibilities to form a vocabulary that is both intimate and deliberately universal. Reporting on the depths and heights of consciousness, where we've gone wrong, what's holding up progress and the occasional glimpse of paradise, has been a constant project for Deen, one that doesn't lend itself to formulas or processes. The results can be painstaking, messy affairs at times but they convey experiences charged with splendor and turmoil.

Deen has had solo exhibitions at The Power Plant (1998), Toronto, The MAC, Dallas, The Dunedin Museum, New Zealand, Van Horn, Dusseldorf, Smith-Stewart, NY, Brand 10, Ft. Worth, Studio Camuffo, Venice and Christopher Grimes, Santa Monica. Group exhibitions include LACMA, The Drawing Center, NY, ENTWISTLE, London, The Aldrich Museum, Conn, The Blanton Museum, Austin, Museum for Contemporary Art, New Orleans, Mary Boone, Villa Merkel, Esslingen Germany, Museum de Fortuny, Venice, The Center for Contemporary Art, Dallas. She lives in Joshua Tree, California.


GARY EVANS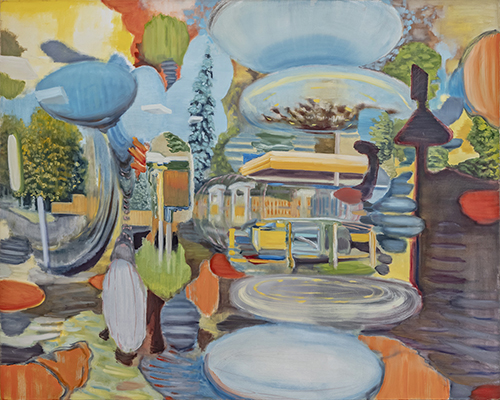 Cookstown
2003
oil on canvas 48 x 60 inches

The yellow self-serve gas station canopy in the middle of the painting Cookstown serves as a pivot point which merges a natural landscape setting with urban interventions.

GARY EVANS was born in Weston Super Mare, England and resides in Alliston, Ontario. He has been exhibiting work professionally since 1995.

Evans work in contemporary painting challenges traditional notions of perception and experience of the Canadian landscape. Of his more than 20 solo exhibitions highlights include a touring exhibition of his work, Seeing Things: The Paintings of Gary Evans, curated by Stuart Reid, which toured across Canada between 2000-2002 as well as a survey of paintings, Station, at The Art Gallery Of Windsor in 2008.

Evans is a graduate of the Ontario College of Art and Design (1989) and heads up the School of Design And Visual Art, Georgian College, Barrie, Ontario.


FASTWÜRMS




Goldfinch: A Skry Bowl for songbirds
2019
raku, acrylic on canvas, sand, pond water, found mat, black tourmaline
18 x 28 ½ x 9 ½ inches

Derived from an Old English word, "skry" is the form of clairvoyance achieved by gazing into reflective, flickering objects, such as water, candle flames and crystal balls. For FASTWURMS, a "positive economy" is created through a combination of paranormal and environmental activism: true prosperity is only gained by enhancing the personal freedom and well being of others.

Formed in 1979, FASTWÜRMS is the cultural project, trademark, and shared authorship of Kim Kozzi and Dai Skuse.

FASTWÜRMS creates poly-disciplinary artworks that mix performance and performative events into the context of immersive installations, collective making and social exchange projects.

FASTWÜRMS artwork is characterized by a determined DIY sensibility, Witch Nation identity politics, and a keen allegiance towards working class, queer alliance, and artist collaborations.

FASTWÜRMS is a Witch polity and epistemology, creating and circulating aesthetic knowledge as a shared emancipation and liberation narrative.

FASTWÜRMS has exhibited and created public commissions and installations, performance, video and film projects, across Canada and in the United States, Europe, Brazil, Korea, and Japan.

Exhibitions include Soylent Orange and Red of Tooth and Kaw at the 27th Biennale de Sao Paulo, Brazil. Donky@Ninja@Witch at the Art Gallery of York University, North York, the Contemporary Art Galley, Vancouver, and Plug In ICI, Winnipeg.

FASTWÜRMS also recently exhibited Krummi Krunkar: Tarot+Tattoo in Reykjavik, Iceland, as part of the SEQUENCES Festival. House of Bast in Sligo, Ireland, and Bast is Best at The Power Plant. Their site sculpture Owl is currently installed on the roof of the Albright Knox as part of the Beyond/In, Western NY exhibition, Buffalo.


RON GIII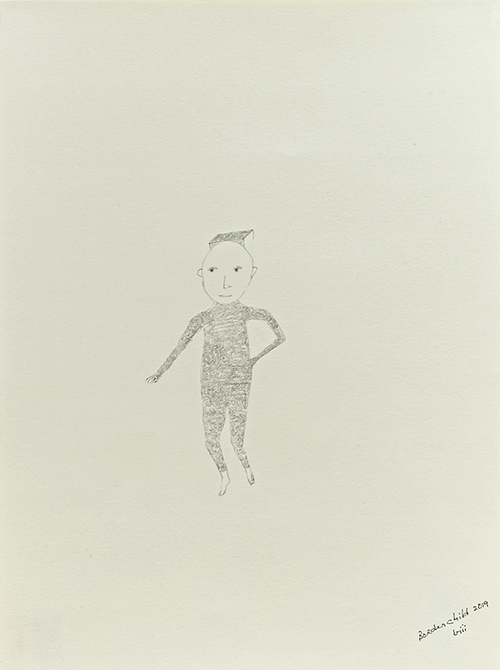 Border child
2019
conte and ink on paper
12 x 9 inches

Ron Giii, who has made work about the welfare of children since his time in Africa in 1962, has this to say about Border child, "I have over 44 nieces and nephews and seeing them have children and watching them running and playing it is hard to see Mexican children marching in the heat trying to escape poverty and violence" (Ron Giii, 2020).

RON GILLESPIE was born in 1944 at New Westminster, BC. His earliest training in art took place in 1962-64 at H.S.C. Prince of Wales College, Nairobi, East Africa. He graduated from the Ontario College of Art in 1975 and established a signifant performance art practice during the 1970's. By the early 1980s he had moved into drawing while retaining a strongly performative element in the compositions. Philosophy, geometry and the anti- modern figure prominently in the work with influences including Artaud, Darwin, Hegel and Spinoza.


SADKO HADZIHASANOVIC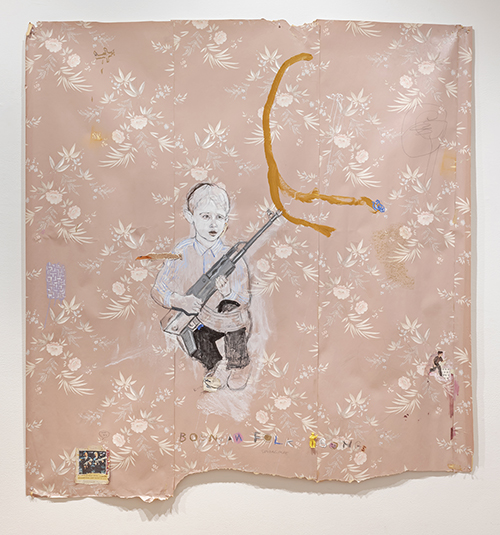 Bosnian Folk Song
1999
mixed media on wallpaper
67 x 62 inches

Sadko explores identity and the politics of migration, with its attendant cultural and social implications, in an extensive portraiture-based body of work incorporating mixed media and collage, and an array of references to popular culture. The welfare of children in times of war is at the crux of Bosnian Folk Song.

SADKO HADZIHASANOVIC studied at the Academy of Fine Arts in Sarajevo, Bosnia, earned his MFA at the University of Belgrade, Yugoslavia (1984) and arrived in Canada in 1993. Since his arrival from Bosnia, Sadko has participated in over sixty exhibitions in public galleries and artist-run centres across Canada. He is the recipient of visual arts grants from Toronto Art Council, the Ontario Arts Council and the Canada Council for the Arts.


ZACHARI LOGAN




Fantasy Flower, The Pollinators
2020
acrylic on wood panel
36 x 24 inches

"The Fantasy Flower Series relies predominantly on my store of memory of forms of flora and fauna, accessed in the moment from previous research. I do not preconceive these compositions, they simply emerge through action, and reaction, organically; one form a decision based on the result of another with the simple desire to balance the composition overall in terms of form and colour. These are all bits of the self, a portrait if you will.

Thematically, Fantasy Flower, The Pollinators focuses on the earth's insect pollinators, honeybees, wasps, butterflies, moths, beetles and mosquitoes- integral to ecosystems under an immense threat due to human intervention. Much of this threat driven by short-sighted human desires, that either continue to ignore- or do acknowledge, but feel impotent to the task of change. In Fantasy Flower, The Pollinators the flora and fauna intermix, signalling a fuller recognition of the interrelatedness of all things and a regeneration of the human desire to empathize with all beings" (Zachari Logan, 2020).

ZACHARI LOGAN (born 1980, Saskatoon,SK, grad. MFA University of Saskatchewan 2008) is a Canadian artist working primarily in drawing, ceramics and installation.

His work has been exhibited in group and solo exhibitions throughout North America and Europe, including Eunuch Tapestry 5, Leslie-Lohman Museum, NY (2015), Sisi Boy, Schleifmühlgasse 12-14, Vienna (2014), Folds, Angus-Hughes Gallery, London Uk (2014), Hanging Garden, cur. Rhiannon Vogl, Line Gallery, North Bay, ON (2014), Fugitive Garden, cur. Wayne Baerwaldt, Illingworth-Kerr Gallery, Calgary AB (2013), Metamorphosis / Passages, Daniel Cooney Fine Art, NY (2013), Androphilia Art Project: Vignette, NAFF-Athina Collective, elCultur Art Space, Athens (2011) and Beautiful Losers Project, Headquarters Studio, NY (2011).

Group exhibitions include Faceless, cur. Bogomir Doringer, De Markten, Brussels (2015), Mediamadik Fabriek, Amsterdam (2014) and Freiraum quartier21 International, Vienna (2013), The Name of Things, Mendel Art Gallery, Saskatoon SK (2012), Melancholia, cur. Raul Zamudio, Pristine Galerie, Monterrey, Mexico (2012) and When I Grow Up, collaboration with Sophie Calle, Galerie Jean Roch Dard, Paris (2009).

Logan has attended residencies in Paris in conjunction with Galerie Jean Roch Dard, in rural Tennessee at Sassafras ARC/Liberty, in Calgary through ACAD's Visiting Artist Program, in Vienna through both the Museum Quartier's quartier21: Artist in Residence Program and the project space Schliefmuhlgasse 12-14, in London at the Angus-Hughes Gallery and most recently in Brooklyn at the International Studio and Curatorial Program. Logan's work can be found in public and private collections including the Art Gallery of Ontario, the McMichael Canadian Collection, Remai Modern (Saskatoon), TD Canada Trust (Toronto) and Cadillac Fairview (Calgary).


JANET MORTON




Cage
2020
multiple of 12
cocktail straw, polymer clay, glass bead, jump ring, yogurt lid & thread
5 ½ x 1 x 1 inches each

"I created this multiple specifically for Canaries in a Coal Mine, cutting and stitching black cocktail straws (given to me by Paul) to form a cage. Although the imagery of the tiny sacrificial songbird is literal, I found myself thinking of the billions of discarded straws in our oceans inseparable from the cage of our addiction to convenient consumption" (Janet Morton, 2020).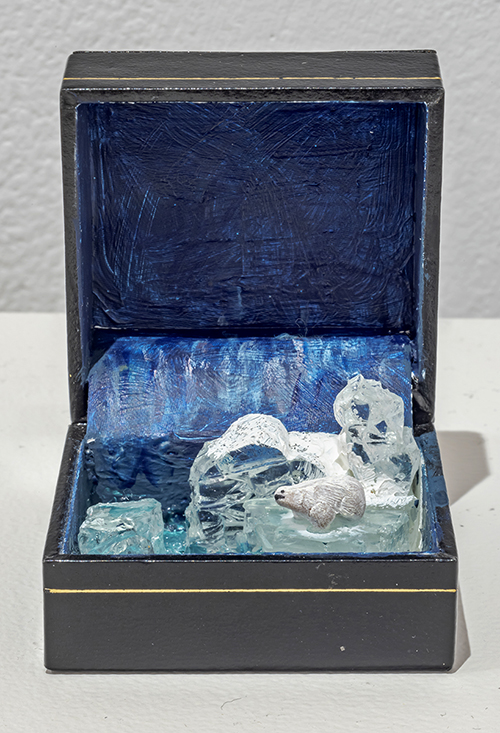 Vanishing
2012
ring case, glass, polymer clay, acrylic paint & glitter gel
5 ½ x 1 x 1 inches each

"Notions of isolation, extinction, nostalgia, preciousness and promise are contained in this tiny offering/souvenir"

JANET MORTON has been exhibiting across Canada and internationally since 1992. She has received numerous awards and accolades for her work, which playfully and critically examines our relationship to the natural world and everyday objects.

Morton uses knitting and sewing symbolically in her work as blatant low-tech metaphors. With equal measures of empathy and absurdity, Morton combines these stereotypically domestic techniques with reclaimed materials, and explores issues of consumption, value and time.

Morton was born in Toronto in 1963. She received an honours B.F.A. York University. Morton currently lives in Guelph Ontario.


MÉLANIE ROCAN




Blazing in the Sun
2015
oil on Polytarp
48 x 120 inches

Blazing in the Sun was first exhibited in Melanie's 2016 exhibition For Tomorrow, in which she presented work that "takes a look at the reality of our world and at the same time tries to find hope. The work often takes tragic and foreboding themes and finds the beauty and optimism within.

Blazing in the Sun, a four by ten foot panoramic oil painting, focuses on similar ideas as the varied edition intaglio prints Beaming. The intensity of yellow hues and aggressive marks heightens the power of the sun-searing beam yet the energy and strength of the threatened landscape prevails and remains resilient within its fragility" (Mélanie Rocan, 2016).

MÉLANIE ROCAN (b. 1980, La Broquerie, MB) is a Franco-Manitoban artist based in Winnipeg. She has a BFA from the University of Manitoba (2003) and an MFA from the University of Concordia in Montreal (2008). Rocan says, "During the making of the work there is a constant shifting between building and re-building within the framework of memory, allowing for new territory to be explored. I often let the painting linger between movement and stillness, and this is captured in the final product. I am also mindful of contradictions, which I find interesting — the dualities that are in constant flux, the oppositions and harmonies within the human condition. There exists a dichotomy between the inner emotional condition and the psychological unease with the environment depicted in the paintings."

Rocan is a three-time semi-finalist in the RBC Painting Competition. In 2012 – 2013 her work was the subject of a survey exhibition, Souvenir involuntaire, organized by the Doris McCarthy Gallery at the University of Toronto Scarborough campus. This exhibition toured to the Kenderdine Art Gallery at the University of Saskatchewan (Saskatoon, SK) and Plug-In ICA (Winnipeg, MB). The bilingual catalogue includes an essay by Josée Drouin-Brisebois. Rocan is the recipient of awards and grants from the Canada Council, Manitoba and Winnipeg Arts Council. Collections include the Agnes Etherington Art Centre (Kingston, ON), Winnipeg Art Gallery, Doris McCarthy Gallery (Toronto), TD Bank (Toronto), RBC (Toronto) and the Manitoba Arts Council. Rocan teaches at the University of Manitoba.


SU RYNARD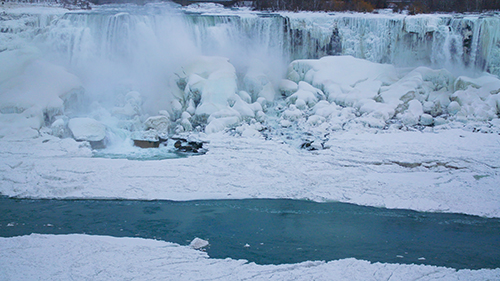 Goldilocks
2019
single channel 7 minute video loop, stereo sound

"The Goldilocks Zone refers to the habitable zone around a sun where a planet could possibly sustain life. Not so close to the sun that it is too hot and not so far that it is too cold. Key to this habitability is water. In this narrow range of "just right" temperatures, water exists in three states; as a gas (water vapor), as a liquid (rain), and as a solid (snow and ice). Liquid water is necessary for all life, and the constant movement between the three states of water creates the microclimates in which we live. No life that we know of has ever evolved anywhere in the universe outside the narrow Goldilocks range of temperatures.

In January 2018, temperatures across Ontario dropped to record breaking lows and Niagara Falls partially froze. In this moment, I was able to capture the three states of water in the singular image of the falls. This work is meant to serve as a reminder of the extraordinarily unique set of circumstances required to create a climate equilibrium supportive of life, and how the current climate crisis irrevocably changes this delicate balance" (Su Rynard, 2019).

Camera: John Price
Sound Design: Phil Strong

SU RYNARD is a media artist with a body of work that spans nearly three decades. From her early video art to her feature films, Rynard has worked across a range of approaches: dramatic, experimental, documentary, and installation. Her interest in science, ecology and natural history and has informed and inspired her recent projects. The National Gallery of Canada, The Canada Council Art Bank, and The Museum of Modern Art in New York have purchased and /or programmed Rynard's work.

Rynard was born in 1961 in Toronto. She received an entrance scholarship to York University, and was awarded the George A. Reid Scholarship and the Melvile P. White Scholarship before graduating with honours from the Ontario College of Art in 1985. Rynard was a director resident at the Canadian Film Centre in 1996.


ADRIAN STIMSON




Naked Napi Smoke Signals
2019
graphite, pen and oil on birch wood panel
12 x 10 inches

"Napi is a Blackfoot character that is central to our stories; he is often referred to as the "Old Man". Napi comes from the sun, he is our quasi-Creator, he is crazy, funny, and is sometimes a fool. He also can be brutal and very mean. In many of our stories, Napi is the creator – along with "Old Woman"– of many of our objects and creatures. Napi is not our god, yet like many divine entities he is credited with creating the world and everything in it. But Napi also gets into a lot of trouble when he starts messing with his own creation; this is why we also refer to Napi as a trickster, a contrary. Napi stories are very familiar in Blackfoot country, often told by elders who have a history of story telling and the rights to tell these stories. Napi and his many stories are our guide to life, he teaches us lesson on how to live and not to live, in a way he is our moral guide, giving us insight into our human condition.

[…] While Napi Stories are often told by elders who have been the recipients of these stories from time immemorial, a new generation of Blackfoot artists, actors and story tellers have started to create new Napi stories, Napi is not static, he is dynamic. In creating these stories, I hope to reimagine Napi in the present, to Queer him, to create new stories and ideas based on our past yet reflect our present and future. As a part of creating these paintings, each painting will come with a story, a story in English, to be translated into Blackfoot. Stories that tell of moments in our time, our struggles, our hopes, both funny and tragic. Hopefully this creates a space where we can imagine a future where Napi still gives us insight into our human condition and be a continuum of Indigenous/Blackfoot knowledge" (Adrian Stimson, 2019).





Bison Sentinel
2008
Bronze edition of 6, #6
7 ¼ x 3 x 9 ¾ inches

"I use the bison as a symbol representing the destruction of the Aboriginal way of life, but it also represents survival and cultural regeneration. The bison is central to Blackfoot being. And the bison as both icon and food source, as well as the whole history of its disappearance, is very much a part of my contemporary life" (Stimson, Canadian Art Magazine, 2007).

ADRIAN STIMSON was born in 1964 in Sault Ste. Marie, Ontario. He is a member of the Siksika Nation (Blackfoot Reserve, Alberta), and was raised there. He served as tribal councillor for eight years in the 1990s, leaving to pursue art in 1999. Stimson studied at the Alberta College of Art and Design in Calgary, Alberta, receiving his Bachelor of Fine Arts in 2003. He has since completed a Master of Fine Arts at the University of Saskatchewan in Saskatoon.

Stimson uses a variety of media in his art that incorporate themes of history, gender, and identity. His Buffalo Boy performances use satire to critique stereotypes about Aboriginal people, his installation Old Sun explores the legacy of the residential school system, while his Transformation exhibit of paintings examines the subject of missing Aboriginal women. His work has been exhibited throughout Canada, and he is particularly known for his "tar and feather" series.

In 2018 Stimson became a recipient of a Governor General's Award in Visual and Media Arts.


HO TAM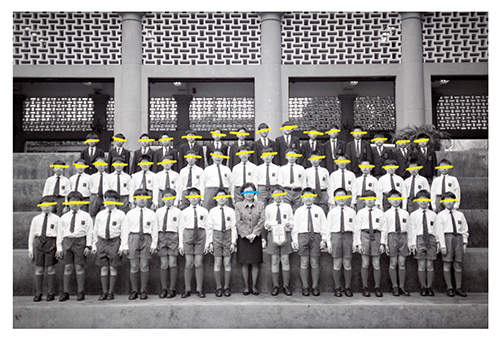 Notes on Hong Kong No. 1 & No. 2
2019
inkjet print on Xuan paper
edition of 3, #1
13 x 18 ¾ inches each

"One is a picture I took for an ex-teacher (who had become a vice-principal) for her prized students (when I revisited the school). People often mistook that I was one of the boys in the picture and I often feel that myself. And the second one is a baby picture with my parents on top of my birth certificate.

I was thinking about again using my own history to explore the current situation of Hong Kong, how the younger generation differs and/or evolves out of their parents and teachers who were born in the colonial era or with more conservative perspectives.

The yellow and blue colours in the two works have reference to the pro-democratic and the pro-government/authority populations, which has now become a very polarizing situation in Hong Kong. I am using their symbolic reference very loosely here" (Ho Tam, 2019).

Born in Hong Kong, HO TAM is a media/visual artist who has worked in advertising and community psychiatry. He received a BA from McMaster University and an MFA from Bard College (NY). From 1996 to 1997, he was a participant at the Whitney Museum Independent Study Program. Tam has exhibited in public galleries and alternative spaces across Canada, including the Canadian Museum of Contemporary Photography (2001). Over 15 of his experimental film/video works are in circulation including screenings at Centre Pompidou, Paris, Toronto International Film Festival, Yamagata International Documentary Film Festival and the travelling exhibition Magnetic North: Canadian Experimental Video organized by the Walker Art Center, Minnesota. Tam is a recipient of various grants and awards, including the Grand Marnier Video Fellowship from the Film Society of Lincoln Center (New York) and the Best Documentary Feature at Tel Aviv GLBT Film Festival. From 2004 to 2011, Tam taught in the Department of Visual Arts at the University of Victoria. Ho Tam lives in Vancouver, BC. He recently edited and published Frontline: Interviews with International Photo-based Artists. He is also the publisher of 88Books, an independent press of artist's books.


FLAVIO TREVISAN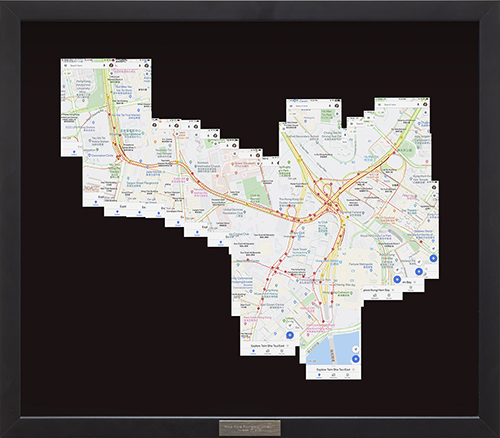 City Drawing #1 (Hong Kong Polytechnic University, November 17, 2019)
2019
archival pigment print
20 x 23 inches

"A few weeks back when Hong Kong university students protested, they focused on universities (there are several in the city) and managed to hold them as defensive positions for their cause. The roads around the universities were closed by makeshift barricades, becoming moats around individual bastions of the democracy movement. The city came to a halt. There was a real feeling of revolution, and it all centred on these sites, the universities. They were just like you've described: canaries.

At the time like everyone, I used my phone to find out what was going on, to figure out how to navigate the city, to get home, or to avoid the ever-present threat of tear gas. I used a mapping app and like traffic, the movement was registering there. The protesters were having an affect on the city, and it was being drawn live on digital maps. So I took screen captures, one by one. The screen can never show the detail unless you zoom in, but you can never see the big picture unless you zoom out. This is the struggle with digital maps. I took these maps and assembled them into one map, centred around the Polytechnic University, which became a battleground between students and the police. This ring around he university lasted for weeks and was really only broken recently. At first it demonstrated the power of the movement, but it eventually became a noose, trapping the poor students. There were many ways to get alternative news in HK because official media is often questionable—one way has been to follow the maps.

For now the city has gone back to the state that it was in before November 17th when these images were taken" (Flavio Trevisan, 2019).

FLAVIO TREVISAN is a visual artist with a background in architecture and exhibition design. Recent projects include "Museum of the Represented City," a solo show curated by Mona Filip presented by the Koffler Gallery Off-Site; "Pink Republic," an installation in the window at TYPE Books on Queen West and curated by Derek McCormack; "The Game of Urban Renewal (Special Regent Park Edition)," a project for Queen Specific, curated by Joy Walker. His work has been featured in Art With Heart 2011 (fundraiser for Casey House, Toronto), Titles (curated by the Way Up Way Down collective) and A Guidebook to Contemporary Architecture in Toronto (published by Douglas & McIntyre). Trevisan is a founder and co-director of convenience (a window gallery that provides an opening for art that engages, experiments, and takes risks with the architectural, urban, and civic realm), where he co-curated the Parkdale International Art Fair with Georgiana Uhlyarik in 2008. Originally from Padova, Italy, he now lives in Toronto. His work is in numerous private collections.


CAROL WAINIO




The Way Ahead
2019
oil on canvas
12 x 16 inches

"In early European fairy tale (Hansel and Gretel, Le Petit Poucet and their variants) children are abandoned in the wood by their parents, a trope I've explored for several years as a metaphor for the generational situation in regard to climate/environmental issues (the face of this today is a young girl with braids named Greta, a variant of Gretel, who urges action in response to the 'fairy tale' of unsustainable growth). In Le Petit Poucet, the smallest of the children climbs a tree to find a way out. While these tales originated in pre-modern contexts where change was impossible and therefore imagined, the well known images were later used in other contexts including photo post cards and advertising; in the case of Le Petit Poucet, selling things like batteries for early flashlights the children used to find their way out" (Carol Wainio, 2020).

CAROL WAINIO was born in Sarnia, Ontario in 1955. After studies at the Nova Scotia College of Art and Design and the University of Toronto, she earned an M.F.A. from Concordia University in 1985. She taught in the Visual Arts Department at the University of Ottawa from 1987 to 1989 and was an assistant professor in the Department of Visual Arts at Concordia from 1989 to 1998. She lives and works in Ottawa, where she is an adjunct professor at the University of Ottawa. Her exhibition The Book, curated by Diana Nemiroff for Carleton University Art Gallery, contains works from 2002-2010 and is currently touring in Canada. A comprehensive hardcover catalogue is available. An exhibition of new work, Old Masters, also appeared at the Kitchener Waterloo Art Gallery, March 8 - April 28, 2013. In 2014 Wainio became a recipient of a Governor General's Award in Visual and Media Arts.


ROBERT WIENS




White Pine
2005
watercolour
96 x 45 inches

"I had been to Temagami before, but in 1997 I had my first guided tour into old growth pine forest. Everything I saw on the trails I walked on had a heightened, saturated quality. The canopy was ten meters higher than anything I had known, and the ground cover was verdant and diverse. I was surprised that these areas were so limited in size; that although pine trees were everywhere, only small pockets of "old growth" forest remained. Trees that had survived forest fires now encountered the more ominous prospect of clear cutting. I remember encountering a fully completed section of gravelled roadway as part of a portage in a remote area. This logging road ran perilously close to the largest old growth white and red pine forest in existence. It is now part of a provincial park thanks in no small measure to the people who protested against the road, and the trees remain standing by way of caring and vigilance" (Robert Wiens, 2020).

ROBERT WIENS (b. 1953, Leamington, ON) attended the New School of Art, Toronto (1973-74). Since 1978, his work has been presented in solo and group exhibitions at the National Gallery of Canada, the Art Gallery of Ontario, The Power Plant (Toronto), the Southern Alberta Art Gallery (Lethbridge), Oakville Galleries, the Dunlop Art Gallery (Regina), the Agnes Etherington Art Centre (Kingston) and the Art Gallery of York University (Toronto). His work has also been presented internationally in Los Angeles, London, Amsterdam, Bologna and New York. Permanent collections include the National Gallery of Canada, the Art Gallery of Ontario, the Agnes Etherington Art Centre at Queen's University, Kingston, the Art Gallery of Nova Scotia, the Canada Council Art Bank, Bank of Montreal and TD Bank.

Since 1997 Wiens has been concerned primarily with environmental issues; native trees being the principal subject of this work.