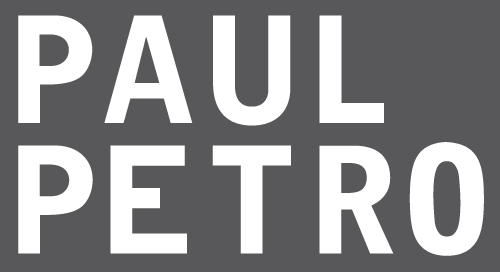 Firmament
October 16 - November 14, 2020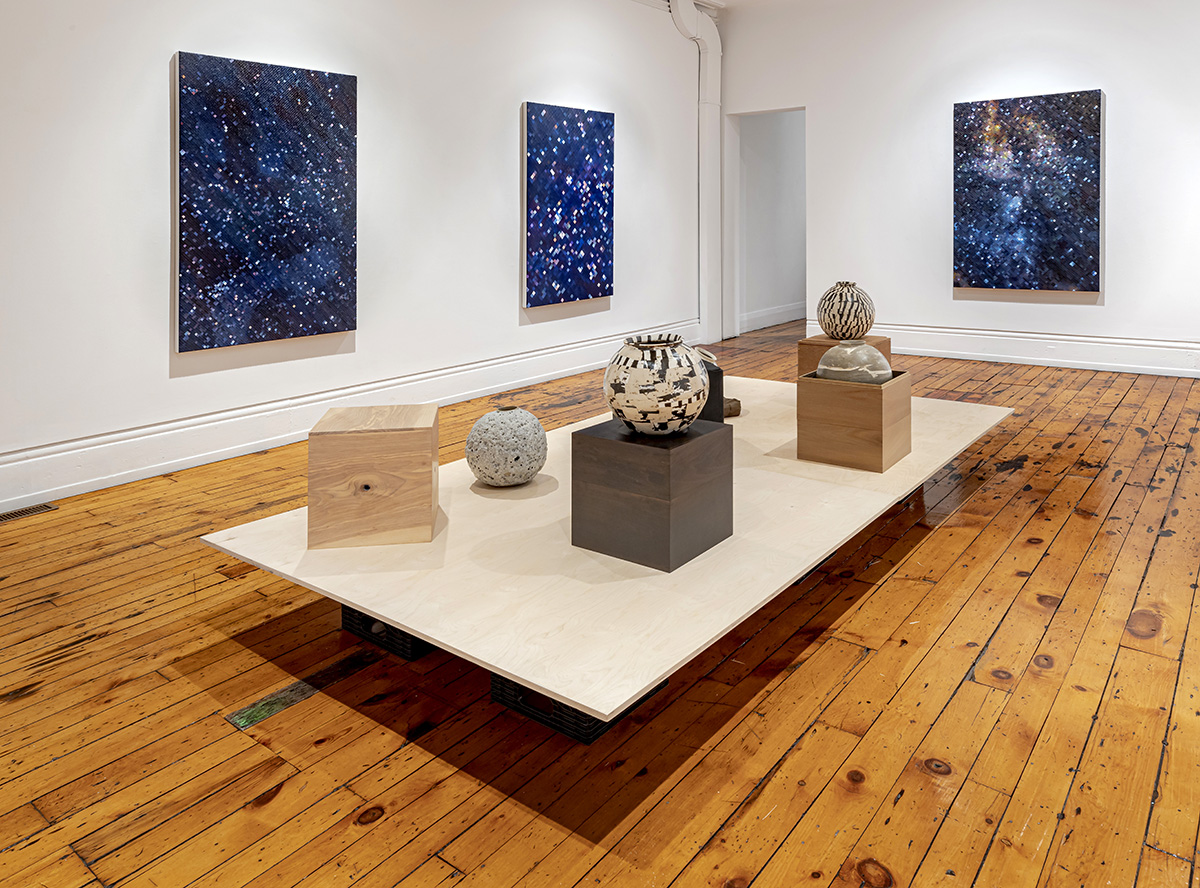 Paul Petro Contemporary Art is pleased to present an exhibition of paintings and ceramics by Stephen Andrews. The exhibition is comprised of six night sky paintings and a suite of ceramic Moon Jars. Andrews has been exploring the ceramic medium over the past ten years, and Firmament marks an occasion for the first large presentation of this work. In the artist's 2015 survey, POV, at the Art Gallery of Ontario, curator Kitty Scott included several ceramic works in discrete locations within the exhibition, and in 2019 at the McMichael Canadian Art Collection, a single large terra cotta sculpture was installed at the beginning of Aftermath, an exhibition of Andrews's Iraqi War drawings. The Moon Jars are presented with custom wood boxes produced in collaboration with Daniel Gruetter.


"Our present swarms with traces of our past. We are histories of ourselves, narratives." — Carlo Rovelli


"I've been working on a series of moon jars for the last few years. Moon Jars originated in Korea during the Joseon Dynasty, and the form has inspired many artists over the centuries. My interest in the form is its simplicity, with the spherical shape open to many interpretations. I wanted to make a series of objects that used this same form, but each be quite distinct from the others.

I decided to produce a series of paintings of the cosmos to accompany these moon jars. The paintings can be read as both abstractions and as charts, with different registers of time at play. The individual brush strokes measure out the time of their manufacture like grains of sand in an hourglass. A shooting star's brief trip through our atmosphere doesn't even manifest against the backdrop of cosmic time. We barely have time to see it ourselves. When you look up into the heavens, the twinkling light has arrived for our pleasure from vastly different moments. One star's light might be 10 million light years old while another star in the same constellation could be twice as old, yet here they are simultaneously in our present.

To make sense of such conundrums, we ascribe meaning to the stellar patterns of the heavens, and use those fabulistic inventions to explain ourselves to ourselves, imagining our destinies to be written there. Carlo Rovelli's The Order of Time was given to me as a gift by Shelagh Keeley. In layman's terms, this theoretical physicist deconstructs our understanding of time and reconstitutes it as mathematical poetry. The Odes by Horace set the tone for each chapter. There is only one equation in the book, ΔS ≥ 0, which is the calculation for entropy. Entropy is a measure of uncertainty or randomness, and it can serve as a fitting metaphor for the collaboration with fire that is ceramics... or the high wire act of painting itself.

Often boxes are made to accompany ceramics. In Japan they are called Tomobako, and aren't considered a framing device but an integral part of the work. I asked Daniel if he would be interested in making boxes for the moon jars. The different aspects of each individual pot were discussed and Daniel would suggest materials and approaches to create a dialogue between the pot and its box. For example, the particular grain of the wood might echo the striations in the clay body of a nerikomi / agateware pot. After an accident that happened during the firing process, that contretemps was reiterated in the making of the accompanying box. Rovelli's take on entropy guided us to embrace the serendipity at play in the making of these objects.

The coda for the exhibition is Infinity, an image of my nieces hamming it up in a hall of mirrors, featuring a 'mise en abyme' scramble of what is real and what is reflection. As with the cosmos paintings and the jars, these two orbit around one another for me, so questions of which is the object and which is the subject become uncertain. The digital rendering compounds this further. As if at the event horizon of a black hole, the girls are goofing around at a boundary beyond which events cannot but affect the observer."

— Stephen Andrews, 24/09/20





Stephen Andrews was born in 1956 in Sarnia, Ontario, Canada. His work deals with memory, identity, technology and their representations in various media including photography, drawing, animation, painting and ceramics. Over the last twenty five years he has exhibited his work across Canada, the U.S., Brazil, Scotland, France, Italy and Japan. Recent exhibitions include Aftermath at the McMichael Canadian Art Collection (2019), and POV, a fifteen-year survey at the Art Gallery of Ontario (2015). He is represented in collections including the National Gallery of Canada, the Art Gallery of Ontario, the Montreal Museum of Fine Arts, the Belkin Art Gallery, the Agnes Etherington Art Centre, the Art Gallery of Hamilton, the Tom Thomson Art Gallery, the Schwartz Collection, Harvard, and corporate art collections including Torys (Toronto), Osler, Hoskin and Harcourt (Toronto), the Royal Bank of Canada, National Bank of Canada, TD Canada Trust and the Bank of Montreal. Andrews is a recipient of the Governor General's Award in Visual and Media Arts (2019).

Daniel Gruetter is a woodworker and furniture designer based in Toronto, Canada. He was born and raised in Bella Coola, a remote community nestled in British Columbia's coast mountains. He graduated from the University of British Columbia with a Bachelor of Arts in History in 2010. Daniel makes thoughtfully designed and meticulously crafted furniture and objects that are of a specific terroir. His work is an expression of a deeply rooted appreciation for community and the natural environment. He strives to make pieces that resonate with people, invite interaction, and promote the valuing of craft, regional identities, and natural materials. Daniel has worked with local and international artists, architects, and designers to provide finely made furniture and objects for a wide variety of contexts.


Shooting Star

by Arthur Sze

from The Redshifting Web: Poems 1970-1998 (Copper Canyon Press, 1998)



In a concussion,
the mind severs the pain:
you don't remember flying off a motorcycle,
and landing face first
in a cholla.

But a woman stabbed in her apartment,
by a prowler searching for
money and drugs,
will never forget her startled shriek
die in her throat,
blood soaking into the floor.

The quotidian violence of the world
is like a full moon rising over the Ortiz mountains;
its pull is everywhere.
But let me live a life of violent surprise
and startled joy. I want to
thrust a purple iris into your hand,
give you a sudden embrace.

I want to live as Wang Hsi-chih lived
writing characters in gold ink on black silk—
not to frame on a wall,
but to live the splendor now.


Deprived of sleep, she hallucinated
and, believing she had sold the genetic
research on carp, signed a confession.
Picking psilocybin mushrooms in the mountains

of Veracruz, I hear tin cowbells
in the slow rain, see men wasted on pulque
sitting under palm trees. Is it
so hard to see things as they truly are:

a route marked in red ink on a map,
the shadows of apricot leaves thrown
in wind and sun on a wall? It is
easy to imagine a desert full of agaves

and golden barrel cactus, red earth, a red sun.
But to truly live one must see things
as they are, as they might become:
a wrench is not a fingerprint

on a stolen car, nor baling wire
the undertow of the ocean. I may hallucinate,
but see the men in drenched clothes
as men who saw and saw and refuse to see.


Think of being a judge or architect
or trombonist, and do not worry whether
thinking so makes it so. I overhear
two men talking in another room;

I cannot transcribe the conversation
word for word, but know if they are
vexed or depressed, joyful or nostalgic.
An elm leaf floats on a pond.

Look, a child wants to be a cardiologist
then a cartographer, but wanting so
does not make it so. It is not
a question of copying out the Heart Sutra

in your own blood on an alabaster wall.
It is not a question of grief or joy.
But as a fetus grows and grows,
as the autumn moon ripens the grapes,

greed and cruelty and hunger for power
ripen us, enable us to grieve, act,
laugh, shriek, see, see it all as
the water on which the elm leaf floats.


Write out the memories of your life
in red-gold disappearing ink, so that it all
dies, no lives. Each word you speak
dies, no lives. Is it all
at once in the mind? I once stepped
on a sea urchin, used a needle to dig out
the purple spines; blood soaked my hands.
But one spine was left, and I carried
it a thousand miles. I saw then
the olive leaves die on the branch,
saw dogs tear flesh off a sheep's corpse.
To live at all is to grieve;
but, once, to have it all at once
is to see a shooting star: shooting star
shooting star.